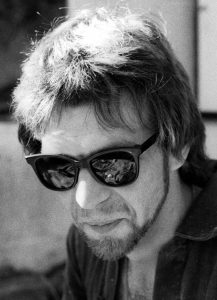 Charles Roff 1952-2017
Charles was born near Inverness, Scotland, and brought up in Rhodesia and Iran. After studying Film and Photography in Nottingham, he exhibited his photographs of portraits, landscapes, and nudes in the UK, France, USA, Germany, and Japan between 1977 and 2002. In the late seventies he established a very profitable publishing company, Foto-Roff and Crean Bottoms Productions, for the production of high quality posters and postcards, selling his work and that of other carefully chosen photographers across Europe. In 1985 Charles founded Black and White Publications and opened a gallery of the same name in Covent Garden, London. This ran successfully for six years. A documentary was made in 1989 about Charles Roff, his double life as photographer and publisher, in a film called "All That is Left of Innocence." The documentary was shown on British Independent Television in 1990.
At the beginning of the nineties, Charles returned to freelance photography, taking various commissions, leading immediately to an exhibition of landscapes for the National Trust Cable and Wireless entitled "A Beach Story." This work coincided with a series of nudes Charles photographed on the beaches of Cornwall.
In 1994 Charles went to Bosnia as a stills cameraman on a BBC commissioned documentary filming the destruction of Mostar. A series he photographed of Mostar was subsequently used by WarChild charity, exhibited at their fund-raising events. These photographs were also shown at MTV Europe television headquarters in London and the Supper Club in Amsterdam. The Mostar series has also been used extensively in the sleeves of music CDs produced to raise funds for the reconstruction of Mostar.
Charles went on to complete the photographic series depicting the progress of Neil Simmons Thatcher commission statue, culminating in a Limited Edition of platinum prints illustrating the unique relationship between the artist and the model. Images from this series will be used in an upcoming book of Charles portraits of various artists and their models. In the last few years of his life he contributed to the documentary series 'The Power of Art' with Simon Schama as well as taking on a directorship at PZ Gallery, promoting art and fine art photography in Cornwall, England.
Read his Times obituary here.